GRE Prep in Rome (Italy)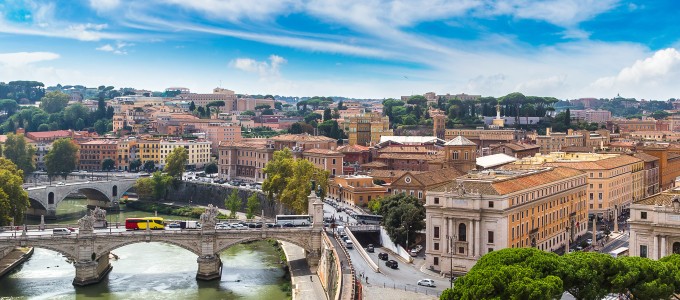 The Graduate Record Examination, or GRE, is an important step in the process of applying to different graduate schools. As an exam that is taken by a variety of different programs, students who are interested in getting into their graduate school of choice should be prepared to study properly in order to ensure a stronger performance on the day of the test. Students who are looking for assistance with the study process for the GRE should look to Manhattan Review for the best standardized test prep in the Rome area. Students who choose to work with Manhattan Review for the process of preparing for the GRE can utilize a variety of study options either individually or in combination with one another, such as group courses, private tutoring, and practice exams. Manhattan Review's study options also come with a variety of benefits to ensure that students are able to get the most out of their course of study.
Students who choose to work with Manhattan Review in the context of a group course or private tutoring will have the option of working either in-person or online depending on what they feel would be best for helping them to learn the material that is covered on the exam. Students who choose to work with one of Manhattan Review's in-person private tutors can utilize any mutually convenient location in the Rome area to study. Manhattan Review instructors all have several years of experience with helping their students learn the material that is covered on the GRE and other standardized tests, and several keep up to date with the exam by retaking it. Manhattan Review's practice tests are also kept up to date to reflect the current formatting and content of the exam, ensuring that students will be able to self-study in a way that will help them know what to expect on the GRE.
Students who have worked with Manhattan Review tutors for their GRE preparation period have managed to develop a stronger grasp of the material on the exam, leading to a stronger and more well-rounded performance when they take it for themselves. Students have taken advantage of the higher scores they have earned on the GRE exam to gain admission at a wide variety of graduate schools across the world. Manhattan Review alumni have gained acceptance to schools such as Harvard, Yale, Oxford, Columbia, Rice, Loyola, Bates, Emory, Brown, Dartmouth, University of Chicago, and many others in a wide variety of locations and disciplines. Students have also used the academic backgrounds of these schools to gain positions at a wide variety of different companies, including Fortune 500 companies such as Bank of America, JP Morgan and Chase, Walmart, Apple, Microsoft, and many more. Call or email one of Manhattan Review's academic program advisors today to learn more about our options for GRE preparation.

Bill was wonderful! He was most helpful very thorough and patient. He explained everything multiple ways and answered all our questions. I appreciated the solutions work he did.
- Linnet (This student did GRE tutoring)
Rome
Phone: +1-212-316-2000

Primary Course Venue:

Fortyseven Hotel Rome
Via Luigi Petroselli 47
00186 Rome
Italy

NOTE: We do NOT typically have staff at the venue, so email us before visiting the venue.
Meet a Rome GRE Tutor: Phil C.
Phil C. came to the Rome area after many years of living in Florence because of having more friends in the area. He has been working as a tutor for both the GMAT and GRE exams for several years, and also helps students who have gotten into graduate schools in the Rome area (or elsewhere via online tutoring) with their coursework.
Phil's approach to the GMAT and GRE exams involves ensuring that his students fully understand an individual topic covered on the exam before moving onto the next one via a customized makeshift syllabus of sorts, allowing for students to more fully understand their own strengths and weaknesses. When not tutoring students, he likes to attend various sporting events, especially basketball.