IELTS Prep in Rome (Italy)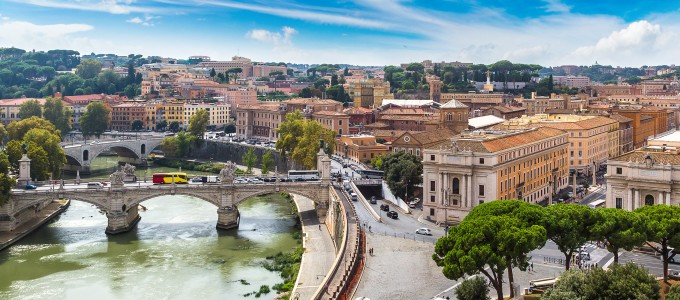 ESL students who are looking to learn the English language to ensure that they can deliver a stronger performance on the International English Language Testing System (or IELTS) should look to the study options offered by Manhattan Review for the best standardized test prep in the Rome area. Manhattan Review has been helping students with their standardized test preparation since 1999, and offers a wide variety of options to be taken advantage of for ESL students looking to master the English language. Manhattan Review's group courses, private tutoring packages, and practice exams are the best in the Rome area and can be utilized either in combination with one another or on their own to ensure the best possible performance on the day of the IELTS exam. Manhattan Review students can also take advantage of the unique benefits that come with the study options that Manhattan Review offers in order to ensure they get the most out of their course of study.
Students who are utilizing Manhattan Review's practice exams for the IELTS exam will find that they are updated annually to ensure that they accurately reflect the formatting and content of the most recent incarnation of the exam. Manhattan Review's instructors also make a point of keeping up with the standardized tests they teach, ensuring that they are knowledgeable about what is required to ensure a strong performance on the exam. Students who choose to take group courses or private tutoring with Manhattan Review can take them either online or in-person depending on what they feel would be best for them, and students who choose to take in-person private tutoring can meet their instructor at any location in the Rome area that is convenient for both parties. Students who work with a Manhattan Review private tutor also have the ability to customize their lesson plan as necessary to ensure that their strengths and weaknesses are covered in appropriate amounts.
Students who have chosen to work with Manhattan Review for their IELTS exam preparation have acquired both a higher score on the day of the exam and a greater command of the English language that has served them well in a wide variety of pursuits. Students from Manhattan Review have taken advantage of their higher scores to attend colleges that accept the IELTS, such as Harvard, Oxford, Cambridge, Yale, Stanford, UCLA, Emory, Texas A&M, Sapienza University of Rome, and many others in a wide variety of locations. Students have also managed to translate their work at these schools into careers at Fortune 500 companies, including companies such as Bank of America, General Motors, Apple, Microsoft, Dell, JP Morgan and Chase. Students have used their newfound English skills for positions requiring bilingual language skills. Call or email an academic program advisor today to learn more about Manhattan Review's IELTS options in Rome.
Rome
Phone: +1-212-316-2000

Primary Course Venue:

Fortyseven Hotel Rome
Via Luigi Petroselli 47
00186 Rome
Italy

NOTE: We do NOT typically have staff at the venue, so email us before visiting the venue.
Meet a Rome IELTS Tutor: Lloyd H.
Lloyd H. grew up in the Memphis area and attended Penn State University, but later moved to the Rome area for career reasons. He grew up in a family that was bilingual and has been helping students to learn English, Spanish, and other languages for a variety of different contexts, including helping students looking to properly prepare for the TOEFL or IELTS exams, since high school.
Lloyd's ability to speak multiple languages has helped him be able to adjust his lesson plans as necessary when teaching students depending on their initial degree of facility with the language that they are trying to learn, making him a flexible instructor for a wide variety of students. He spends his free time enjoying Rome's music scene and attending concerts.