GMAT Prep in Rome (Italy)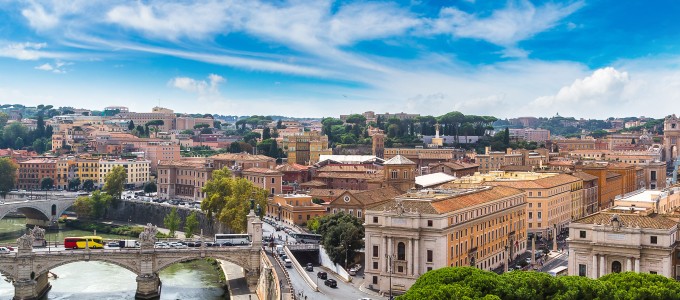 The Graduate Management Admission Test, or GMAT, is an important exam for students looking to get into business school. Proper preparation and learning the material on the exam is the first step toward having a successful performance on the day of the GMAT exam itself and with subsequent business school studies. Manhattan Review has been helping students with their GMAT exam preparation since 1999, and students in the Rome area who choose to work with Manhattan Review have a wide variety of options to choose from in formulating a study plan for the day of the exam. Students who choose to work with Manhattan Review can utilize group courses that allow them to work with fellow students under the guidance of a common instructor, private tutoring to help them with gaining the individual assistance in preparing for the test that they may desire, and practice exams to help with the self-study process.
Students who choose to take advantage of the services offered by Manhattan Review will find that they come with numerous benefits to assist students during their period of studying for the exam. Manhattan Review's instructors all have many years of experience tutoring students, and our practice exams are annually updated to reflect the current formatting and content of the GMAT. Students who choose to take part in a group course or work with a private tutor can choose between in-person or online depending on what they feel is the best route for their course of study. Students who work with a tutor can customize their study plan as they see fit to ensure that they focus as needed on their respective strengths and weaknesses, giving them the tools to deliver a more well-rounded performance on the day of the GMAT exam. Students who choose to work with an in-person tutor can take advantage of various Rome locations to work with their instructor in a place that is mutually convenient for both parties.
Students who have worked with Manhattan Review for their exam preparation have gone on to achieve a higher score on the day of the GMAT exam, along with generally having a stronger sense of confidence and time management to go along with their improved grasp of the material. Students have managed to take their subsequently higher scores on the GMAT exam and used them to gain admission to a wide variety of business schools, including Rome schools such as Sapienza University of Rome. Students have also gained acceptance to business schools such as Harvard, Yale, Stanford, Oxford, Cambridge, University of Chicago, William and Mary, Columbia, and many others. Students have also gained work at various companies, including FedEx, Apple, Microsoft, Google, and others in and out of the Rome area. Call or email an academic program advisor today to learn more about the GMAT exam study options available for Rome students.

I just wanted to let you know that I took the GMAT yesterday and got 700. Thanks for your help.
- Simon (This student accessed our online recording library and is based in Italy)
Rome
Phone: +1-212-316-2000

Primary Course Venue:

Fortyseven Hotel Rome
Via Luigi Petroselli 47
00186 Rome
Italy

NOTE: We do NOT typically have staff at the venue, so email us before visiting the venue.
Meet a Rome GMAT Tutor: Harold D.
Harold D. grew up in the Los Angeles area and attended UCLA to earn his Master's in business administration, but moved to Rome for career and family purposes. He has been helping students with their GMAT preparation since his own time in graduate school, and has helped students in both the United States and Italy gain acceptance into a wide variety of business schools.
Regardless of whether he is teaching a group course or individual students, Harold's approach to the GMAT involves making sure his students understand which parts they have a better or weaker understanding of in order to ensure that they can focus their attentions as needed when going through their studies. When he is not helping students prepare for the GMAT exam, he spends his free time jogging and swimming.