Best SAT Test Prep Courses and Tutoring in Milan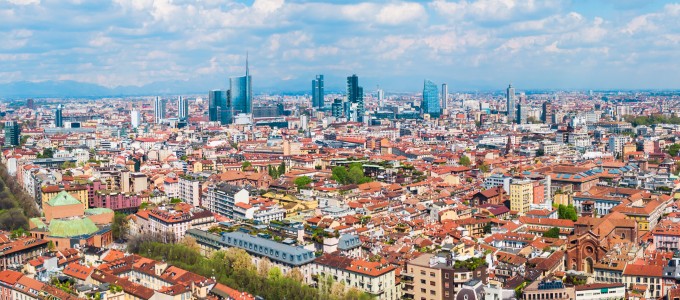 Preparing for standardize tests can be a challenging time for any student. This is especially true for those students who have a tendency to lack confidence in their abilities and lack adequate test preparation strategies as they prepare to enter college by taking the Scholastic Assessment Test, or SAT. Designed to assess basic skills necessary for success at the college level, such as reading, writing, and math skills, the SAT plays a significant role in the application process as it helps determine overall academic aptitude and potentiality of an applicant. As a result, prospective college students are urged to obtain their highest possible score on the SAT in order to ensure they are accepted into their school of choice. Manhattan Review can help! With the professional guidance of top rated SAT test prep courses, you are guaranteed to reach your best possible score on the SAT.
Since 1999, Manhattan Review has been at the forefront of the test prep service industry, helping prospective college students to achieve their SAT testing goals. Our unprecedented program is unlike any other test prep consultant service, affording college applicants the opportunity to get involved and ultimately control their own SAT test preparation process for their benefit. Specifically, participants can custom design their own learning plan, which plays the biggest role in their success in our program. Learning plans typically consist of either one-on-one sessions with one of our elite private tutors, some of the top professionals in Milan who we have handpicked to develop our participants to their potential, or they can consist of any mix of our interactive online courses, courses that were developed by industry experts who have a proven track record of helping prospective college students to adequately prepare for the SAT. As an added bonus, each participant is given access to our supplemental learning materials, such as our SAT practice tests as well. No other test prep service gives high school students a better chance to excel than Manhattan Review.
Over the years, Manhattan Review has garnered the respect of both the academic community and business community alike in Milan. Specifically, all of the top colleges in Milan including Politecnico di Milano, University of Milan, Universita Cattolica del Sacro Cuore, Bocconi University, University of Milan Bicocca, IULM University of Milan, Universita Vita Salute San Raffaelo as well as all the top art schools including Milan Academy of Fine Arts (Brera Academy), New Academy of Fine Arts, European Institute of Design, Maragoni Institute, Domus Academy, Pontifical Ambrosian Institute of Sacred Music, and Milan Conservatory are all the proud recipients of Manhattan Review's past SAT test prep students. The top schools in Milan look to Manhattan Review for the best and brightest that Milan has to offer not only because they know our students have the highest SAT scores, but also because they have a demonstrated academic aptitude that is superior to their peers. The local businesses in Milan also support Manhattan Review and our SAT test prep students as well. As a result, it is not uncommon for RAI, Mediaset, Telecom Italia Media, Sky Italia, Google, Lycos, Virgilo, Yahoo!, Alfa Romeo, Pirelli, Banca Popolare di Milano, Mediobanca, Banca Mediolanum, UniCredit, and the Milan Stock Exchange to hire our participants. With the help of Manhattan Review's industry leading SAT test prep consultant services, you are guaranteed both academic and professional success in Milan. Call us to get started today.

Funny, made things clear and related things to real life. The SAT / ACT course was very helpful, I don't think I would've improved my reading skills without it. This course also gave me strategies to break down a reading. I got a feel for the SAT and had practice in areas I struggled in.
- Niaema Fox (This student took our SAT preparation course)
Milan
Phone: +1-212-316-2000

Primary Course Venue:

Sheraton Diana Majestic Hotel
Viale Piave, 42
20129 Milan
Italy

NOTE: We do NOT typically have staff at the venue, so email us before visiting the venue.
Meet a Milan SAT Tutor: Alanis R.
Like so many of our elite private tutors at Manhattan Review in Milan, Alanis came to us after relocating to the capital of the Lombardy region of Italy for her work. As a media executive, working for one of the leading media companies in Milan, Alanis has the opportunity to influence the lives of many up and coming professionals in her field. And while she never imagined that her work would involve mentoring others, Alanis quickly came to develop a passion for working with students, in particular. It didn't take long for Alanis to discover Manhattan Review's world-class SAT test prep consultant services. That was nearly five years ago.
As a trusted member of our team of instructors at Manhattan Review in Milan, Alanis plays a critical role in helping us to provide prospective college students with best-in-class SAT test prep consultant services. Our students love working with Alanis not only because of her knowledge base and her prior academic record, especially her abilities to achieve scores in the 99th percentile on both the SAT and GMAT during her own academic tenure, but also because she is so optimistic. Always encouraging her students to persevere above and beyond any obstacles that they may encounter during their SAT test preparation process, Alanis works hard to both provide assurance to her students that their trials and tribulations are a part of the learning process and that making adjustments are crucial to creating their most effective learning plan. Having private tutors on staff, like Alanis, plays a significant part in the success of our SAT test prep program and ultimately the success of our test prep students each year.